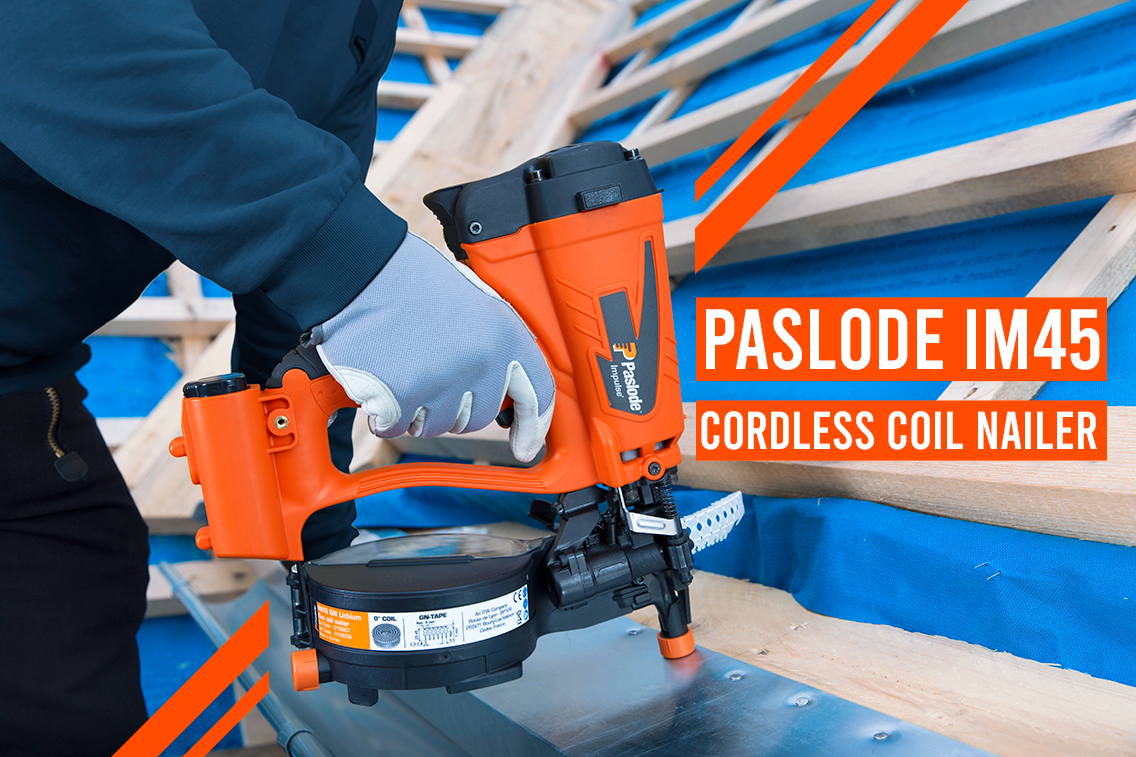 Fixing metal roofing can be hard work – hammering individual nails can be arduous and tricky, with the risk of material damage and waste, not to mention the physical impact of the bending and stretching required to complete the job. With the quick and economical Paslode IM45 Cordless Coil Nailer, the first cordless coil nailer on the market, hand hammering becomes a thing of the past.
1) INCREASED PRODUCTIVITY
The gas-powered tool has been proven to increase productivity on site by as much as 40%, which also has an impact on costs, saving you precious time and money in comparison to traditional hand nailing methods. The compatible Paslode quick-charge lithium battery delivers around 90mins of power from a single charge, which roughly equates to as many as 4,200 shots, depending on usage.
2) GREATER ACCURACY
The tool also provides better accuracy, which means less damage to the metal from slipped hand application and a reduction in material waste. It delivers a flawless, plush finish every time, with an optimised nose design that makes it easy to fix accurately, no matter the size of the space you are in.
3) REDUCED USER FATIGUE
The IM45 tool benefits from user-friendly ergonomics, resulting in less fatigue for the user. Nails come in coils of 1000 and are available in stainless steel A2 2.8 x 25mm, perfect for metal roofing applications. Why continue the laborious, slow method of hand nailing when there is a tool that allows you to work faster and with greater accuracy?
4) NO EXTRA TRAINING REQUIRED
Anyone who has undergone Paslode training can operate the tool, which means that even the most junior of apprentices on-site can use the tool to complete the job. This in turn eliminates the need for the long training period required to learn hammer nailing skills, and of course extra hands always help get the job done quicker.
5) VERSATILE
This versatile tool can also be used for a whole host of other applications, from fixing fibre cement cladding and plasterboard to timber, to fencing, flashing and edge protection applications.
For more information on the IM45 GN tool, visit https://www.paslode.co.uk/specialist-nailers/im45-gn-coil-nailer/