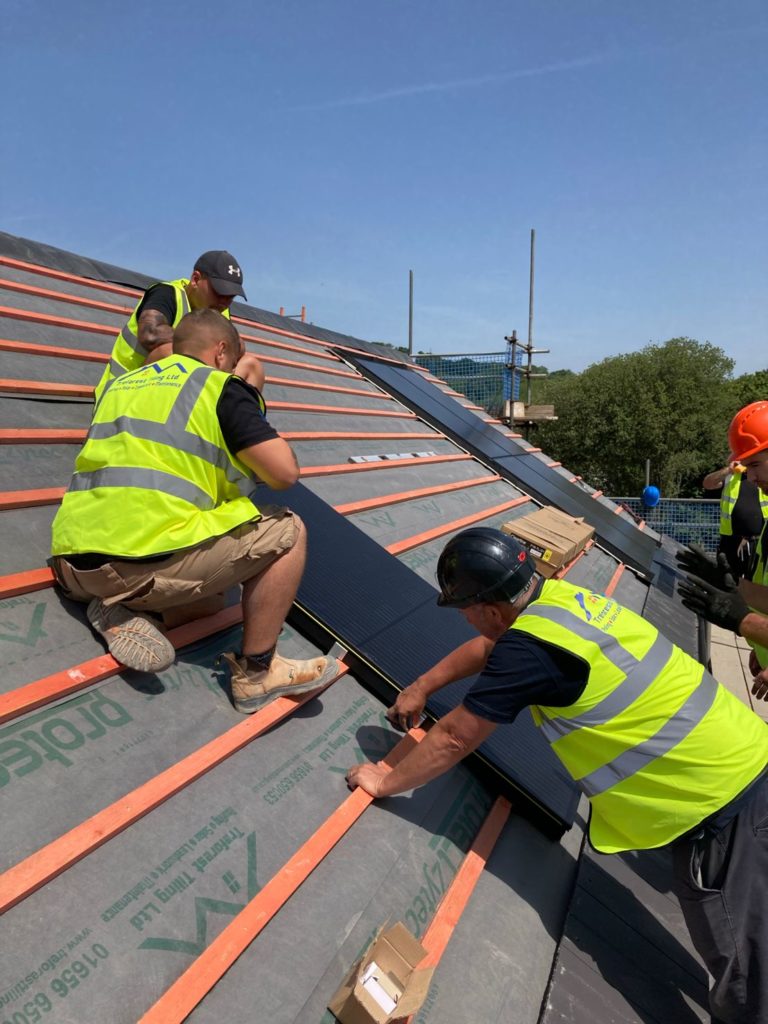 Ten years ago, solar panel installation was still fairly uncommon. The demand for solar – on both new-build and refurbishment projects – however, is huge and continues to increase.
Fuelled by consumers' increasing concern about energy prices and climate change, as well as the government's target of net-zero by 2050, the UK is installing solar panels at a fast pace.
According to a report from Solar Energy UK, solar capacity is expected to more than double by 2030 – but they have proposed a set of policy amendments that would triple solar capacity compared to current levels. This would cut carbon emissions by 21.2 million tonnes annually while also creating thousands of new jobs and creating an estimated £17bn in additional economic activity.
All of this is great news for roofing contractors looking for ways to expand their offering to clients. That's why we've put together this guide to solar panel installation.
Types of solar panel installation
There are currently two main types of solar panels on the market. These are roof-integrated panels and on-roof panels.
Roof-integrated solar panels
Designed to sit in line with the roof surface, roof-integrated solar panels look seamless and as if they were always part of the roof – even if they were a recent addition to the property.
As well as the aesthetic benefits, roof-integrated solar panels also require minimal maintenance since there are no visible fixings or space underneath the panels where debris can build up.
Integrated solar panels are also easy to install. In new-build projects, the panels and flashings are attached to the roofing battens, and then tiles are laid around them. This means less time is spent laying roof tiles, as the solar panel acts as the roof covering. On retrofit projects, simply remove a section of tiles and install the solar panels in their place.
Marley SolarTile® is a roof-integrated solar panel system. It can be used as part of our comprehensive roof system for a simple and fast installation. It also offers four times the wind resistance of competitor products, offers market-leading fire performance and comes with a 15-year guarantee for your customers' peace of mind.
To see just how easy it is to install Marley SolarTile®, download our installation guide.
On-roof solar panels
While integrated solar panels are installed in place of a roof covering, on-roof systems are mounted above the roof surface. The result is not as attractive or streamlined as roof-integrated panels. For new-builds, there is an opportunity for on-roof systems to negatively affect the manufacturer's warranty.
On-roof solar panels are harder to maintain because of the space between the roof surface and the solar panels – regular cleaning is required to remove the debris. They may also be more prone to damage caused by wind uplift and due to the space beneath, can allow for rodent nesting.
Other equipment
Solar panel installation is the most visible and time-consuming part of a solar system, but there's more to the project than putting panels on the roof – there's also wiring and other equipment to think about.
Inverters – Because of the way solar panels work, they create direct-current (DC) electricity. However, UK homes almost universally use alternating current (AC) power. This means an inverter is needed to convert the energy from DC to AC. Inverter units can be installed inside, in a location that can be easily accessed for maintaince.
Battery storage – Batteries aren't always necessary, but they allow homeowners to make the most of their solar panel installation. With a solar battery, you can store any electricity generated, but not needed, during the day and then use it when solar production is low. Solar batteries can range in capacity from 2 to 14 kWh, and you can combine multiple batteries for even more electricity storage.
What training and certifications are required to install solar panels?
If you're an experienced roofing contractor, you already have all the skills you need to install solar panels – solar panel installation is roofing. That said, there are two things you'll need to think about: the electrical connection and MCS accreditation.
● The electrical connection – This is the last part of the installation. To do the electrical installation yourself, you will need to gain electrical qualifications. Alternatively, you could team up with a certified electrical contractor as a sub contractor to undertake this final part of the project.
● MCS accreditation – The Microgeneration Certification Scheme (MCS) is an industry-led assurance scheme that demonstrates the quality and reliability of products and installers. MCS certification allows you to sign off the products, installation and electrical connection to complete the job – and all solar installations must be signed off by an MCS installer to be connected to the grid. Through our partnership with NAPIT (the National Association of Professional Inspectors and Testers), we can offer roofing contractors a discount on their MCS applications.
You may also want to register with other trade organisations and assurance schemes, such as Renewable Energy Assurance Limited (REAL), and the Renewable Energy Consumer Code (RECC).
Solar installation training and advice from Marley
Here at Marley, we offer engaging and informative training, covering all aspects of the Marley SolarTile®, as well as our complete range of roofing products, giving you the confidence to sell and install them successfully. We also offer comprehensive support and guidance ranging from CPDs to installation videos, instruction sheets, booklets and more.
For more information about solar panel installation, download our SolarTile® brochure or contact us to speak with an expert.